Housing to see changes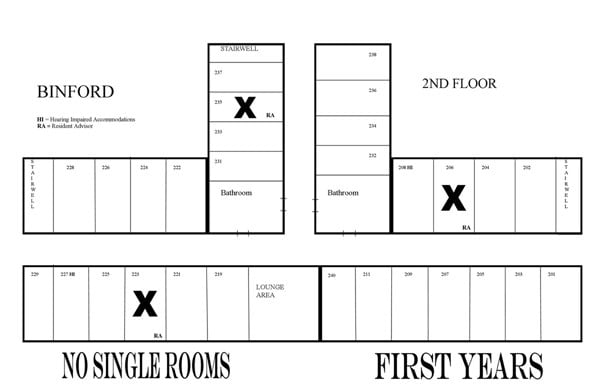 Guilford College is raising the roof and putting in a sprinkler system while they are at it.
Starting this summer, the College will renovate on-campus housing. Changes include interior design modifications, access to new apartments, a new proposal and selection process for theme houses and more opportunities for gender-inclusive living quarters.
Binford Hall, a first-year dorm, will see the greatest amount of revisions, including bathroom restoration, the addition of a sprinkler system, an elevator and standard, movable room furniture.
"Some of the materials we have in the houses are very old, so anything (the administration) adds will be a great help," said Farhad Walizai, sophomore and resident advisor. "I think Binford is one of those buildings that needs to be changed a lot because it's the only building that has fallen apart."
A key point of the renovations is increased accessibility.
"There needs to be remodeling, so we can have better access to the facilities," said Kayli Reyna, junior and resident advisor. "If we get elevators, more individuals with disabilities, especially walking disabilities, can live (in) Binford and have a better experience at Guilford."
Students will not be able to live in the hall while it undergoes renovations during the summer and fall.
"Next year, Binford will be offline, but we have acquired the East Apartments, so there is some shifting of the student population," said Susanna Westberg, director of residential education and housing.
"Over the course of the next three years, we will have one of the buildings offline each year – Binford, then Milner, then Bryan," said Westberg. "The housing options for the returning … and the new student population are going to change. Right now, first-years live in Binford. Next year, … they're going to be housed in Bryan Hall, meaning fewer returning students can live in Bryan but some with live in the newly acquired East Apartments."
Guilford purchased Hodgins Retreat, now called the East Apartments, to satisfy the demand for housing. The apartments will be considered campus property and will receive services from Residential Education & Housing, Facilities & Operations and Public Safety.
"I think it's a great idea that they bought the new apartments," said Walizai. "Our student population is growing so much. This year, we had a problem where they put some (first-years) in Mary Hobbs, … so buying the apartments is a great idea to expand our school."
However, the purchase came with a few complications. The lease for the current residents of the apartments, many of whom are Guilford students, expires on May 1, the week before final exams. In addition, the purchase is likely to increase the cost of living at the apartments.
"It's taking away affordable housing from Guilford residents because they now need to go through Guilford, instead of the cheaper way through the actual apartment complex people," said Reyna. "They need to look farther away to afford housing."
These changes, especially related to interior design, are a result of cost-saving delays on the part of the administration.
"There's quite a lot of deferred maintenance that has to be addressed," said Westberg. "As we progress through the years, deferred maintenance is built up over time. Priority one is safety and accessibility. Sprinklers are going to go in all of the dorms we are renovating, for example, (as well as) elevators, wherever possible, for accessibility."
Theme houses, living areas with a special interest, specifically Cobb House and Pope House, will also go through changes. Themes will be now be reviewed every two years, and students will no longer apply as groups but, instead, choose the house based on a student-proposed and committee-picked theme.
"The applications will be going out shortly for people that want to propose (a theme), and toward the end of this month, we will be announcing which themes were chosen," said Curtis Arena, housing operations coordinator.
Plans for residential housing restorations stretch all the way to 2018 and 2020 for Milner Hall and Bryan Hall.
Leave a Comment