Goof: Sexy Putin steals show in U.S. DWTS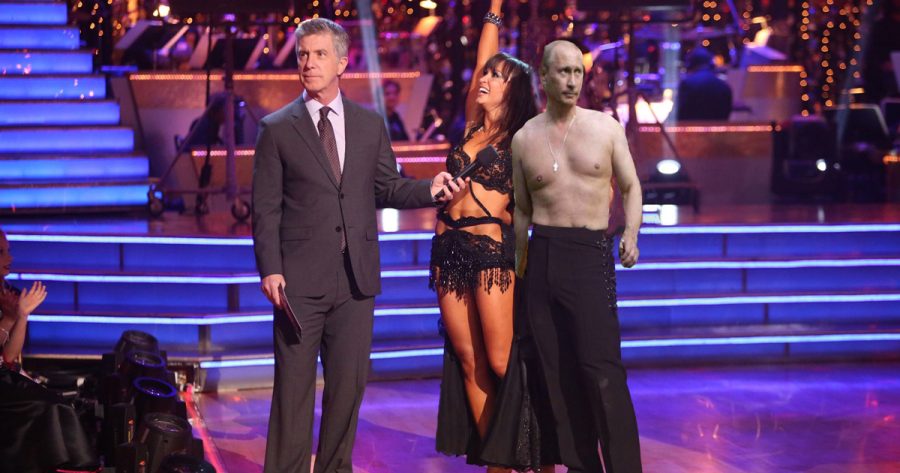 Disclaimer: This story is a part of out April Fool's edition, The Goofordian. This story was created by Guilfordian Staff and is not based in fact.
Two months ago, in a shocking turn of events, Russian President Vladimir Putin announced that he would be temporarily leaving office to participate on the upcoming season of ABC's "Dancing with the Stars."
Now, in the aftermath of Putin's announcement, several other world leaders, including North Korea's Kim Jong Un as well as U.S. President Donald Trump, have announced plans to follow suit in attempts to one-up the Russian politician.
In a recent interview, North Korea's Supreme Leader expressed his excitement about being the most recent celebrity to throw his hat in the ring, promising to "utterly and irreversibly annihilate the competition by any means necessary."
Who knew Kim Jong Un was such a fun, competitive guy?
Meanwhile, U.S. President Donald Trump was quick to downplay his Korean counterpart's enthusiasm, suggesting that "America is in good hands. No one has ever beaten me in a dance-off. Nobody dances better than me, believe it. Everybody says that. Seriously."
While Trump did admit that early rehearsals for the show's first episode were in fact taxing (though he wouldn't admit just how much he'd been taxed), the President's optimism doesn't appear to be dampened even after it was announced late last week that British Prime Minister Theresa May would also be joining the cast of "Stars" this season, looking to further demonstrate the moves she first showed off late last year to the tune of Abba's "Dancing Queen." 
Trump reportedly quickly dismissed May as a threat early this morning, claiming that he still only had eyes for his biggest competition, Vladimir Putin.
"It's very exciting to be competing against him," Trump explained in an interview late last week, "it's always exciting to have the opportunity to come in close contact with the Russians, something of course I have never done before."
While Trump has promised to "make ABC great again," his VP Mike Pence is already voicing concerns about the prospect of Mr. Trump having to share dances each week with women who are not his wife, Melania.
"Mr. Trump's marriage to Melania is very sacred, just as a marriage between any man or woman is," Mr. Pence explained while respectfully clutching his wife's shoulder with one hand and a copy of the Bible with the other, "It does concern me that Mr. Trump may have to place his hands on another woman while competing on the show, something that I hope doesn't send the wrong message out to the people of our great Christian Nation."
Now, as "Dancing with the Stars" draws closer to its premiere, fans are left with all sorts of questions, such as: "will Trump refuse to 'slide to the left' during the Cha-Cha Slide?" or "can Vladimir Putin really twerk?"
Only time will tell. Until then, keep it here at the Goofordian for all your "Dancing with the Stars" updates and remember: anything else is fake news!