HUG engages community, creates safe spaces
Hispanos Unidos de Guilford is a club that celebrates Hispanic culture and students on Guilford College's campus. HUG is a place where students can go experience the food, music and heritage of the Hispanic culture to emphasize the importance of being inclusive.
The club has been around for 10 years and the faculty advisor Irving Zavaleta Jimenez was one of the first members of HUG. It started when the Hispanic population on campus grew, which called for a space where students could meet and do things to keep their culture alive on campus. Ever since, it continues to educate and share the culture.
"If HUG was not a club, I would feel isolated," said sophomore Jeniffer Gonzalez Reyes. "I would feel like I was constrained by the 'American culture.'
"More than anything it's like a piece of my home in a way. If HUG did not exist, I would lose the Latinx side of me and the passion to learn more about my culture and to be more engaged with what is happening in the community."
President and sophomore Hector Rivera Suarez appreciates being a part of the club. He believes it is a great place for students to feel safe and comfortable to have both fun and difficult conversations.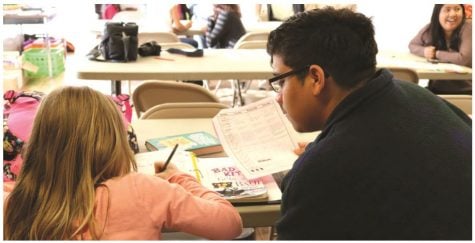 "As a first-year, you are looking for that community that you can relate to," said Suarez. "HUG was the place where I found that. It is a space where it is safe to talk about anything while being welcoming."
The club has conversations to help people understand and become aware of different issues going on in the Hispanic community. For example, Latinx is a term that is now being used to be more gender inclusive. Not only does the club talk about how they can move towards being more gender inclusive, they talk about how they can be more inclusive with the Latinx LGBTQA community.
Creating change within the Hispanic community is a key factor to HUG. On Mondays and Wednesdays, members go to Oakwood Forest, a tutoring site located in a predominantly low-income Hispanic neighborhood. Attending Oakwood students can make an impact within the greater Greensboro community.
In addition, members of HUG unwind by going to Artistika, a Hispanic club located in downtown Greensboro and enjoying different kinds of Hispanic foods which reminds most people of home. Similarly, there is almost always food at HUG meetings.
"Food brings people together" said Suarez.
Vice President and first-year Maria Peralta agrees with Suarez and believes that HUG is a pleasant environment where she feels the hospitality when she goes each week.
"Since I am a first-year at Guilford, I did not know where I belonged and I longed for a community that I relate to," said Peralta.
"When I found out that HUG was having its first meeting, I was the first to sign up. I think it really helped me transition more as a Latinx female coming into Guilford."
In the future, both Suarez and Peralta say they hope to continue to have fun, host more cultural events and have more serious conversation about how as a community they may be affected by the Trump Administration. HUG hopes to build a stronger community so everyone can feel the warm environment, especially the Latinx community.
"When I walked into my first HUG meeting, I was able to have a full experience with my five senses," said Peralta. "I was able to smell the food, taste the food and listen to music. I felt the vibe, so that is what I really like about HUG."
For more information about HUG, students and faculty can visit the HUG Facebook page, talk to students like Suarez and Peralta and attend meetings on Wednesdays at 1 p.m. in the BRC in King Hall. HUG is an inclusive space and students do not have to be Hispanic to attend.

Hang on for a minute...we're trying to find some more stories you might like.