GOOFORDIAN: Guilford purchases therapeutic spider monkeys for campus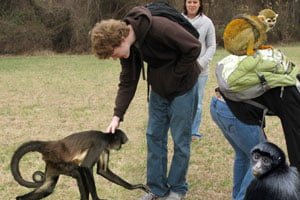 Disclaimer: This story is a part of our April Fool's edition, The Goofordian. This story was created by Guilfordian staff and is not based in fact.

There's nothing like snuggling with something fuzzy in times of stress.
Now, Guilford has taken that to a new level.
In addition to dog therapy, the College has decided to purchase a troop of nine spider monkeys for the sanity of the students.
"This is really an incredible opportunity for Guilford students to experience biodiversity without even leaving the campus," said President and Professor of Political Science Kent Chabotar while eating a Pop-Tart.
The quaint creatures will live in Guilford's natural tree canopy year round.
They were purchased at half-price from an agency that the College has declined to name. Chabotar would only say that details were released on a need-to-know basis.
"This was such a bargain that we just couldn't turn it down," said Max Carter, director of the Friends Center and campus ministry coordinator.  "After all of the fish tank brouhaha, we knew it was important to show students that Guilford is using its money wisely.
"What could be more beneficial than spider monkeys?  And at half-price, no less."
Rumors have been circulating that Guilford only made the purchase because Elon University bought a crate of angora rabbits to release around the campus.
"Is this a game to you?" Chabotar told The Guilfordian. "We have to outdo those freaking posers, but you didn't hear that from me."
Regardless of the reasons behind the administration's actions, students couldn't be more excited.
"They're so adorable," said Guilford quarterback Matt Pawlowski. "I can't wait to get my hands on one, and as for catching them?  Trying not to fall out of trees will be half the fun."
To ensure the monkeys have everything they need to thrive at Guilford, the college hired Professor of Physics and Academic Advising Director Steven Shapiro. Shapiro moonlights at the North Carolina Zoo in Asheboro, NC under the assumed name 'Benny.'
"There is nothing to stop spider monkeys from thriving here except the inappropriate climate, lack of food and incompatible habitat," said Shapiro.  "I'm sure that putting out some fruit and nuts for them will be enough to ensure their survival."
Shapiro's terms for advising Guilford were that students not call him by his alias and that he be the one to put out the fruit.
"Call me fruit bowl, just don't call me Benny," said Shapiro.
There have been a couple of calls from parents about the danger of students contracting malaria from the monkeys, but Lynn Moseley, Dana professor of Biology, issued a statement assuring parents that there was little to no risk.
"The chances of a student getting bitten are very slim," Moseley said while petting Frodo, one of the monkeys.  "Besides, malaria's not so bad.  It's yellow fever you really have to worry about.
"Remember, we place the spider monkeys. We don't throw them.  This will keep them happy."
When Carter heard about the complaints, he spit his tea across the coffee table in surprise.
"Hold me back, hold me back," he said while punching his imagined foe.  "They should be grateful for everything I went through to maintain the testimony of equality.
"Every student should have the opportunity to be stress free, and this is the ultimate solution."