John Martin awarded Public Safety Officer of the Year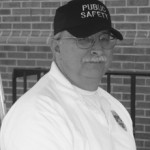 For the second time since he has been working here, Martin was awarded the title of "Public Safety officer of the Year" for his contributions to the school.
"I try to be friends with the students I meet," said Martin. "I have a good rapport with them and we stay in communication. It's not my job as a member of Public Safety to target anyone here, it is to provide safety and keep the students healthy."
Martin started his career in the military before retiring after a few years to work with Delta Airlines. After his stay there, he joined a small security group and eventually was offered a security position here at Guilford College.
He was officially hired for Public Safety in 2003, and won the first "Public Safety Officer of the Year" award a year later, the first time it was awarded.
"John has been with the department of a number of years, and has shown a long term commitment to Guilford College," said Director of Public Safety Ron Stowe. "He is a dependable, well-liked, trusted, and respected officer, both within the department, and throughout the community."
A distinctive characteristic of Martin is his commitment to the regulations of Guilford, and he tries to get students to adopt his standpoint. In his opinion, those caught breaking school policies should just be honest when dealing with Public Safety.
"It's not for me to say whether (the student) was right or wrong," Martin said. "If you are caught, just be honest about it. Don't try to hold things back or else it will only make things more difficult for you."
Despite the difficulties that come with his job, Martin still keeps a positive attitude. From alcohol poisoning to marijuana possession to acts of violence, Martin is always courteous and is never judgmental of those responsible. Whenever a student needs help or feels like talking, he is there with a funny story or friendly advice. It is no wonder why he is one of the students' favorite Public Safety members.
Martin was nominated for the achievement by a group of community members, who had nothing but praise for the officer.
"Every time I see (Martin), he is always friendly and has a kind word," reads one nomination that the director Stowe, released. "He is always helpful and seems like a good guy. I cannot think of a better example of someone who represents the core values of this college."
"I like all the people I work with; the faculty, administration, staff and my fellow officers are all great people," said Martin. "But the most rewarding thing about my job is watching a student come into the school as a first-year and watching them graduate a few years later."
"(Martin) is very deserving of this award, and I was pleased to award (it) to (him)," said Stowe. Martin truly has been one a well-respected staff member at Guilford for the better part of a decade, and hopefully he will continue to be for years to come.
Leave a Comment