Max Carter discusses Bryan incident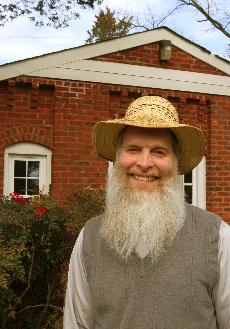 Max Carter is the director of the Friends Center and Guilford's Campus Ministry coordinator. He is involved in the Quaker community both here and in Palestine. Carter agreed to speak to The Guilfordian about the incident in Bryan on Jan 20.Q: What steps are you involved with that are currently being taken in response to this incident?
A: This Sunday, we're having the big kick-off for a teach-in, with four different panels, dealing with issues like the culture of sport, the social aspect of college in terms of when has Guilford dealt with issues like this before, a forum on xenophobia and stereotyping, and one on the root of Quaker principles and testimonies.
At a future teach-in, we hope to address other issues, like alcohol and Palestinian culture and history. There have also been ongoing worship services and counseling.
Q: What are the goals of the teach-in, and what is it going to be like?
A: The goal is to help the community address issues that have been raised by the Bryan incident, though we're not going to be dealing with the judicial process itself.
People have been calling for applying our Quaker values on both sides. People will claim Quaker values to support just about anything at Guilford. So we want to look at 'What are Quaker values?'
The make-up is going to be essentially two or three people on each panel, experts in their area, talking about their insights and then a Q-and-A. We'll start off at 3 p.m. with a keynote by former president of the college Bill Rogers. Then we'll have the rest of the panels through the supper break until 9 p.m. People can come and go and attend the ones that they're interested in.
Q: What do you think we should do to prevent something like this from happening again?
A: There are several things that we need to do. First, we need to take another look at how we introduce prospective students to the college, how we orient them to what Guilford is and introduce our core values more effectively during the first week of orientation.
We need to let people know that this is a community, and when you come here, the education you get is not just in the classroom, not just on the playing field. It is a holistic education that comes from both curricular and extracurricular sources.
Another big thing that I think we need to deal with is the use and abuse of alcohol. It's the 900-pound gorilla in the room. I've heard people from Campus Life say that 80-90 percent of physical assaults, sexual assaults, and judicial cases are alcohol-related.
I've been engaged in higher education for 36 years, and I've never seen a program that works to reduce alcohol on campus . . . But I think that we need to get serious and figure out a way to do that, because it is tearing our campus apart. I don't believe that fight would have happened or would have gone to the extent that it did if alcohol hadn't been involved.
Q: Do you have advice for members of the community on how to handle this situation on a personal level?
A: Personally, I would reach out across those divides and get acquainted with someone outside of your own affinity group. Secondly, take advantage of the different programming on campus that helps you get a sense of these other groups on campus -athletic events, artistic events, theater events, academic speakers, worship services, meditation groups.
Get a sense of the broader parameters of the communities. Also, take advantage of those resources on campus where you can reflect, discuss and ponder on these events. There are more than 17 prayer groups on campus each week (that you can go to).
Q: How is the Quaker community as a whole responding to this incident?
A: I've gotten a number of E-mails from Quakers around the world. They're typically saying that we are in their thoughts and prayers, that they are 'holding us in the light,' as Friends say. Friends at Earlham College, our sister college, have been holding worship services as a show of solidarity with Guilford.
No one has really been saying, 'We know what you guys should be doing.' Generally, the response is 'We know how difficult this must be for you.' People are usually asking how people are, both those with serious injuries and those who allegedly inflicted them. Quakers are historically concerned with addressing both sides. No matter where you assign blame, both sides are hurting.
Q: How does this incident impact your peacemaking efforts overseas?
A: That's an interesting question, because I'm not sure how it will affect them. There have been concerns about whether or not Palestinian students are safe here, because if there is any one place in post-9/11 America where they will be treated like full human beings, it is at a Quaker college. Still, we've been reassured constantly by our contacts over there that we will be welcomed there when we travel there next summer. They recognize that this is not a true representation of Guilford.
Max Carter will be speaking during the teach-in on Feb. 18 at New Garden Friends School, from 3 p.m. to 9 p.m.
Leave a Comment