Doctor-clown Patch Adams visits Guilford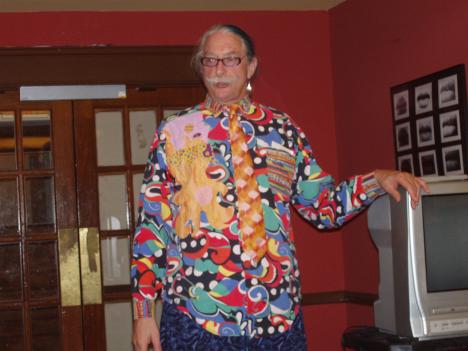 On Oct. 25, Patch Adams paid a visit to Guilford to speak about his life, drugs, poetry, The Gesundheit! Institute, clowning, his movie, and whatever else anyone was curious about. Dressed in a shirt that looked as though someone had flung paint all over it, a plaid tie, and colorful baggy pants, his casual and humorous attitude provided a comfortable atmosphere for the students. He gave two talks while on campus: one in The Hut, the other in Greenleaf.
Adams, who is 60-years old, explained in his introduction that he is an activist whose main goal is to serve humanity. He believes that medicine is not necessary to make people feel better, but rather spreading joy and dedicating your life to peace is the only true way to become happy. This philosophy is known as "live joy," and as a result of it, Adams claims he has gone 42 years without having a bad day.
"I am an expert at being happy," Adams said to his audience at Greenleaf.
Adams uses clowning as a means of medicine claiming that humor is the best medicine. He has clowned in 55 countries.
His introduction continued with an open invitation to those who were interested in joining him on a clowning trip to Venezuela. The trip takes the volunteers to orphanages and hospitals. There is no clowning skill required for the trip.
"These trips are great because you can be really bad … naughty bad," Adams said with a devilish smile.
If students have any questions regarding the trip, Adams' son Lars, who has traveled to several countries to clown, is a first-year at Guilford.
He also touched upon the movie made about his life in 1998 starring Robin Williams. Unfortunately, the film was a very inaccurate portrayal of his life and he cried the first time he read the script. In addition, the director, Tom Shadyac, would not let him be in the film.
When he finished his introduction, Adams opened the floor for questions. When asked about the use of prescription drugs as a means of curing mental health problems, Adams said, "Pharmaceutical companies are evil to the bone! Each person can make their own mental health. I have never written a prescription for psychiatric medication."
He continued by explaining that the purpose the Gesundheit! Institute, the first silly hospital in history, was to dismiss the idea of prescription drugs and to integrate medicine with the performing arts. He sees himself and his staff more as artists than medical staff.
"Patch Adams is a man of serious principles who has the courage and convictions to follow through on them. It seems like his life has pretty much become his message," said sophomore Garrett Fitzgerald.
The Gesundheit! Institute is the only medical group without malpractice and no third-party reimbursement like medicaid and medicare. Adams opened the institute after he graduated from the Medical School of Virginia in 1971.
During lulls in the question and answer session, Adams recited some of the four hours of poetry he has committed to memory.
"I'll start small and work my way up. Here's a haiku: My house burned down today. Oh, I have a much better view of the lake!"
But what made this visit so special was the manner in which he touched the students. His ideas and overall attitude left a very positive impression.
"I was inspired by his non-traditional methods of healing and his theories on mental health," said sophomore Elizabeth Mehaffey.
Adams said that he looks forward to coming back to Guilford next year, hopefully for more than just one day. With any luck, the students will not have any bad days between now and then.
Leave a Comment