Love poetry reading draws big student turnout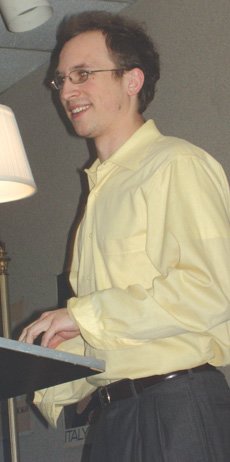 "Love and be loved by me"–"Annabel Lee," Edgar Allan Poe
On Feb. 9, over 150 students and faculty members gathered in the Founders Gallery for a reading of love poetry. The number of readers nearly matched the number of people in the room, as many filtered in throughout the event.
Refreshments were served, including homemade deserts. The podium stood in the company of a lamp – the only light in the room. Its warm glow made the atmosphere romantic.
Last semester there were two poetry readings. At the first, faculty members alone read poetry on any theme, and about 30 people attended. Word spread throughout campus, multiplying attendance for the second one: a student and faculty reading focusing on politics and war.
During the Feb. 9 reading, Academic Skills Center Director Sue Keith began by introducing the love theme, in honor of Valentine's Day. Next, Academic Skills Center tutor Doug Smith stepped up to the podium and read the poem "Quarantine" by Edwin Bowen.
The readings ranged from the love and devotion of God in Psalm 23 to the love of child and wife in Henry Taylor's "At the Swings."
Of course, the passions of two lovers entered the reading as well, in such poems as e. e. cummings' "Somewhere I have traveled," and John Donne's "Holy Sonnet Number 14."
Unusual poems made their way into the reading, too. First-year Henry Vogt read "The Memory of Burning in New Harmony, Indiana," by George Looney, which discussed a monk's vow of celibacy.
One of the biggest hits in the evening was first-year Maria Walsh-Cole's enthusiastic reading of "A Finger, Two Dots, Then Me" by Derrick C. Brown. It spoke of life and love after death and memories from a fond lifetime.
Persons interested in reading had a choice of signing up before the event, or waiting until the end to read.
Junior Heather Wunner's poem didn't even include words. She sat on a chair and played her guitar. The piece was about a composer loving a student who left him.
One of the most memorable poems was English professor Carolyn Beard Whitlow's reading of "Remember," by Christina Georgina Rosetti. It gave the advice: "Better by far you should forget and smile / Than that you should remember and be sad," when a loved one dies.
People stood in the hall just to hear the words of famous and unknown writers. The compelling evening provided an atmosphere of camaraderie between students and faculty as they all contemplated the spectrum of emotions that love can create.