Guilford strikes: No serious business. Lets go Bowling!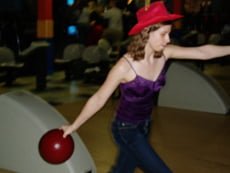 Members of teams "Three Celts and a Jew" and "Like an Alley Kat" are engaged in the fury of competition. After sophomore Matt Stern strikes, he approaches junior Yasmine Fordham, who plays for the other team. He raises his hand and swings it toward her.
The sound from their high-five adds to the noise of the bowling alley, where over 100 Guilford students are playing.
"We're here just for fun," said senior Anna Molnar. "For the love of the game."
Like the 27 other teams that make up the Guilford Bowling Club, Molnar's team consists of four bowlers. Selection of fun team names like "Gettin' Saucy," "Mary Janes," "Bo Hawks," "Dodge the Pekingese" characterizes the spirit of these bowlers.
They bowl every Friday at 7:30 p.m. at the AMF All-Star Lanes on Holden Road. There they socialize, drink beer and have a good time. You don't have to be a part of a bowling team to do that either.
Not on any team, junior Tremain Hatch hangs at the alley with friends.
"It's a good fun time, good fun people" said Hatch. "And yeah, the beer is good."
Molnar meets new people every Friday. At the bowling alley she relaxes after a hard week's work.
Fordham, who has been in the club for the last two years, thinks bowling is for every one. "You get to see a lot of people and it's an activity for every one to game with," she said.
While fun is a priority, there are many bowlers such as senior Rachel White who bowl passionately. White is proud of her personal best of 177 (300 is a perfect game). "It's a beautiful thing," White said.
Senior Ethan Gleiner, however, cherishes his low scores as much as his high scores. His most memorable bowling moment was a few weeks ago when he scored a 37.
"I hadn't had anything to drink," explains Gleiner. "Maybe that was the problem."
Fordham doesn't agree. "The more I drink, the worse I play. Not everyone has that problem," she said.
Guilford students' beer-buying propensities get them VIP treatment at the bowling alley. They are often treated to free games.
"We spend so much money here," said White. "We just give them a hell of a lot of business."
"They buy their share," said appreciative AMF Bowling alley assistant manager Tina Boyle. "(Guilford students) are really great. They are very responsible. They don't cause any problems."
"(Management) is very receptive," said senior Josh Laker. "They take care of us and we take care of them."
Every team pays $14 for three games and shoe rentals each Friday. The club pays the rest. Club monies do not pay for drinks and other purchases.
Senior Savannah Turner, club co-president, encourages students to contact her for entry into the league next semester.
Leave a Comment