2004 NCAA Tournament predictions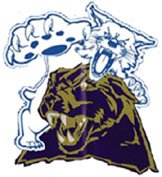 First Round: I see no major upsets in either the St. Louis nor the Atlanta bracket in the first round. Arizona will squeeze by a tough Seton Hall team, but that is no upset. In the East Rutherford region I do see Manhattan beating a talented but inconsistent Florida team, and Richmond outrunning a slow Wisconsin team. Finally, in the Phoenix bracket I have Western Michigan upsetting sixth-seeded Vanderbilt, and Atlantic-10 Dayton knocking out DePaul.
Second Round: This is where things get interesting. I see Kentucky needing overtime to beat Washington, and Boston College ousting Georgia Tech. Gonzaga will beat Michigan State, but only if Kelvin Torbert doesn't play like he is capable for Tom Izzo's squad. The other major surprise I see on this side is number ten seed Louisville beating Mississippi State, a team most experts thought deserved a top seed. St. Joe's will be the first number one seed to leave, losing to Charlotte. Wake Forest has the talent to beat anyone in the country (they beat Duke in Lawrence Joel earlier this season), but they have a tendency to let their intensity lack. Manhattan upsets the Demon Deacons, you heard it here first.
Regionals: I don't see an upset in St. Louis nor in Atlanta, but defending national champ Syracuse beats Stanford, and N.C. State routs a UCONN team that is hampered by injury to Emeka Okafor.
Quarter & Semifinals: Kentucky blows Gonzaga out of the water in St. Louis, and Duke beats Carolina for the third time this year. Charlotte's magical run ends at the hands of Pitt, and N.C. State rules out back-to-back championships for the Orangemen. I can't believe there are going to be two ACC teams in the Final Four. Duke will beat State and Kentucky cruises past Pitt in two forgettable games.
National Title Game: Duke vs. Kentucky
Kentucky's tenacious defense and ball-hawking will frustrate Chris Duhon, Daniel Ewing, and J.J. Redick, causing turnovers and fast-break points for the Wildcats. Duke will make its patented run late in the second half, but the 13-point halftime deficit will be too much to overcome. High Point alum Tubby Smith will cut down the net for the second time in his Kentucky career.
Score: 70-61
First Round: It appears the Atlanta bracket is strongest with Duke, Texas, Mississippi State, Louisville and UNC all included. Look for upsets with Utah over Boston College, Manhattan beating Florida, Louisville upsetting Xavier, and Dayton over DePaul.
Second Round: The second round is harder to predict because there is such parity this year. My biggest upset prediction is Michigan State (7) beating Gonzaga (2). Michigan State will beat up the Zags and find a way to beat them. In Phoenix, an older Syracuse team will beat a young and inexperienced Maryland team. No surprises in East Rutherford or Atlanta, but do keep an eye on Louisville. Don't be surprised if they find a way to pull out a win over Mississippi State. Louisville is well coached by Rick Pitino, and the Cardinals have had flashes of excellence this year.
Regionals: While number one seeds Duke and Kentucky will move into the Elite Eight, a bigger and better coached Syracuse team will upset Stanford. Wake Forest knocks St. Joseph's out with what could be a one-sided game. In a case of two number two's beating number three's, Pittsburgh beats Oklahoma State and Mississippi State beats Texas. Georgia Tech and Connecticut take care of Michigan State and North Carolina State, respectively.
Semifinals: The Final Four: Pittsburgh, Kentucky, Duke, and UCONN. Only two number one seeds, but UCONN and Pittsburgh were two of the elite teams during the regular season. So no real surprises in the Final Four in my opinion.
Championship Game: Pittsburgh versus UCONN
How they Got There: Assuming that Emeka Okafor is healthy for UCONN and Ben Gordon is plays consistent ball (both big question marks), then UCONN matches well with Duke. Okafor is the best player in the nation and his defensive presence tips the scales for UCONN. Pittsburgh and Kentucky match up evenly, but give Pitt the victory. The Panthers play tough defense, can stop points in the paint, and shoot the three when needed.
Who Wins: Pittsburgh
Score: 76-69
Why: Some think that because UCONN beat Pittsburgh in the Big East Tournament Final, the same will happen again. Don't count on it. Most of UCONN's scoring came from the outside in that game and Pitt was able to hold Okafor to 11 points (7 below his average). Pitt has been a consistently good team all year, look for that consistency to pay off with a championship victory.
Leave a Comment