Basketball season arrives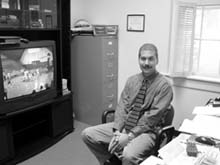 "If we were to win the conference, this would be the year," said sophomore James Parker, describing the strength of Guilford's Men's basketball team.
With the basketball season fast approaching, both men's and women's basketball teams are preparing for tipoff tonight.
"With everyone returning from last year's 20-7 squad, I feel really good about the possibilities for the upcoming season. One of our biggest strengths is our depth. It will provide not only good competition on the practice floor but it will allow us to do more full-court defense," women's head coach Stephanie Flamini said.
With a 12-14 record last year, men's basketball faces this season with a strong, experienced team. The men made it to the quarterfinals of the ODAC tournament last year.
All the players on this years team returned from last year, with the exception of newcomer Truitt Miller. "The team as a whole is stronger," said sophomore Genaro Lawhorn.
Last year's head coach Butch Estes took a coaching job in Miami and took his entire coaching staff with him. He has been replaced by head coach Tom Palombo and assistant coaches Tim Kaine and William Fickes.
"I like Coach Palombo and his staff: they are very upbeat and up-tempo. They like to push the ball up the court, and I would look for some games with a lot of points scored. I believe it will be very exciting not only for us, but for our fans as well," Robby Poteat said.
"We will play an uptempo style of basketball. We will play aggressive on offense and defense. Our goals are to improve every day and play our best basketball in February. We have a great group of guys who are learning how to play hard," Palombo said
Palombo will look to seniors Jevon Clarke, Josh Connor and Ron Bradford to lead the team.
The Quakers' crisp, precise play will make for an exciting season.
" We have to work as a family if we all want the same thing," said Parker.
On the women's side, Stephanie Flamini replaces Barb Bausch. Bausch left after ten years with a 180 – 87 record, making her the most successful coach in women's basketball history at Guilford. Including two ODAC championships in 2001 and 2002.
Flamini inherits Bausch's team who tallied a 20 -7 record last year.
"Our hopes for this year are to win the regular season title, the conference championship, and return to the NCAA Tournament. In that return we want to advance further than the second round. My only concern is how long it will take them to catch on to the new system we are putting in offensively and defensively. If they are quick learners, we should be able to accomplish anything we set our minds to," Flamini said.
The women's team will be led by returning players Nicole McCrory, A.J. Robertson, and Dara Burke, whose invaluable experience should guide newcomers both on the court.
Both teams look poised to make a run at the ODAC championship.

Hang on for a minute...we're trying to find some more stories you might like.